2 Weeks FREE Classes!


+ Bonus FREE Uniform!!
About Our Business
Welcome to the KarateBuilt Grand Rapids website! You have found the right place for you and your family to do martial arts. KarateBuilt™ martial arts schools offer classes for pre-school kids and elementary age children in addition to our famous ATA programs for teens and adults. The programs include beginner martial arts, advanced Black Belt classes, leadership training and instructor certification.
In the renowned Karate For Kids™ programs, the children are taught age relevant curriculum to help them build self-esteem, increase personal self-discipline, get fit and of course be safe from bullying and other dangers that kids face in today's world. These classes (unlike most kids activities) are taught by full-time professionals who are background checked and trained for hundreds to thousands of hours during the course of their instructor training.
In our Adult and teen classes some of the students have goals to lose weight or get in shape. Others want a high-energy workout to complement other sports or hobbies. And other students want to dedicate themselves to being safe!
Instructor/Owner Dwayne Flees
Mr. Flees Sr. Chief instructor of Flees Martial Arts is a 4th Degree Black Belt, nationally certified instructor of Songahm Taekwondo as well as ATA's Protech weapons and self-control defense system and the advanced, nationally-accredited Pressure Point Control Tactics (PPCT). Along with Taekwondo ranking, he additionally holds rank in Shinsei Arnis Jitsu (Philipino Stick & Knife), Tier 3 Go2FirearmsSafety coordinator/instructor on the safe use of firearms and active shooter preparedness for the workplace, he is also certified Level 1 instructor for the "Self-Defense Company", all of which are taught to domestic law enforcement officers nation-wide and our military around the world.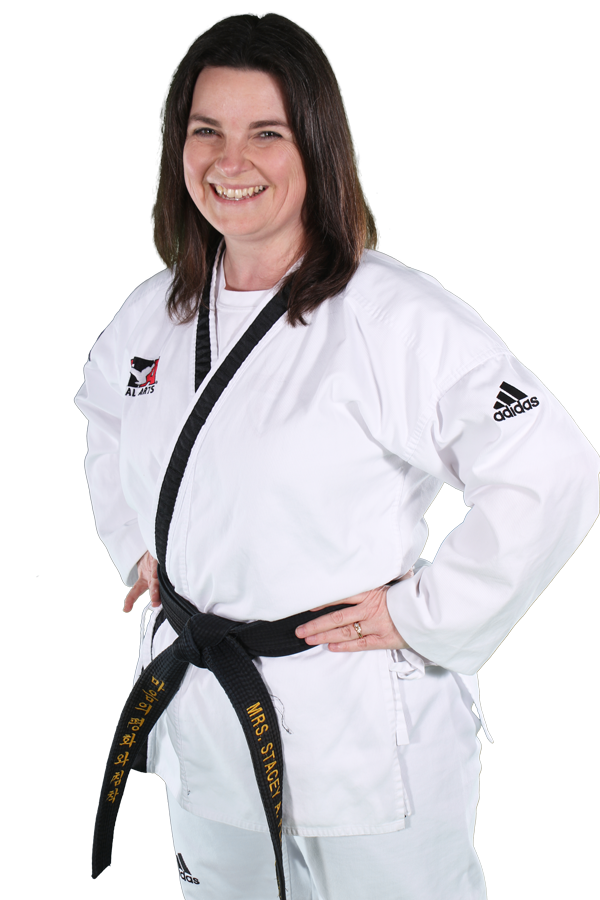 Instructor/Owner Stacey Flees
Mrs. Flees provides invaluable support with her instruction and helping manage the academy. All 3 of our Children have earned their 1st Degree Black Belts and continue setting goals for the future. Some of their students include great-grandparents to current and former military, sworn law enforcement officers and professors. With previous law enforcement experience in the United States Coast Guard, Mr. Flees applies his military/law enforcement background into making instruction dynamic and practical for learners of all ages and abilities.
Instructor Trainee McKinzie Flees
Miss. McKinzie Flees is a 3rd Degree Black Belt, Instructor Trainee
Instructor Trainee Trevor Flees
Mr. Trevor Flees is a 2nd Degree Black Belt Instructor Trainee
Why Choose KarateBuilt Grand Rapids?
World-Class Instructors!

For our kid students: Most parents who choose an activity aren't even aware that most kids activities can damage kids self-esteem, are taught by part-time people or parent volunteers, and don't really teach anything beyond physical activity. We always offer a full-time professional staff, classes 6 days a week, and a curriculum that is based on making the individual succeed all while learning life skills like respect, discipline and communication.
For our adult students: Adults have a wide variety of goals when they start here. Some want to lose weight, some want to get in incredible shape, some want to learn self-defense and others want all of it! The instructors at KarateBuilt™ Martial Arts work with you individually so that each of these goals can be met. The requirements for instructor certification are 10 times more stringent than what a personal trainer at the gym has to endure so our staff can get you where you want to go!
It's Easy and FREE To Get Started!
If you are like most people, considering a martial arts program is a completely new idea. Sure, you may have seen a lot of Jackie Chan or Bruce Lee movies, but to actually DO IT? That's why offer free information on getting started and you can even get a starting package of classes for free right here on the website just fill out the form on this page! You're going to discover it's a safe and fun environment that will build confidence, develop discipline, get you (or your kid) fit and safe however, frankly you need to do it to find out!
Our Martial Arts Team Takes Great Pride In The Reviews We Receive
See What Our Community Members Say About Our Programs
Jane Y.
My son James loves the helpful instructors as he has worked his way from a white belt up to now being a green belt! Now after school James has something to look forward to. Although challenging he is always encouraged to further his development, something ATA takes pride in. I strongly encourage Taekwondo lessons as I have watched James development in strength and discipline.
Mary W.
What price can one put on their child's safety and well being? It has been wonderful to watch as our daughter is instructed in the manner of how to identify a stranger; more importantly what to do should one try to put hands on or harm our child. Through the training at KarateBuilt Grand Rapids, our daughter has grown wiser and stronger. She's receiving the life skills that we want her to have. KarateBuilt Grand Rapids is reinforcing what she is learning at home in regards to discipline and respect, and amplifying in areas that they specialize in with the martial arts.
Jerry G.
The increases I have noticed from my eight year old son are amazing. He is faster, has better reflexes and is no longer clumsy because his balance has improved! He really is learning as well as participating in the lessons and I'm so proud of how far he's come in such a short time. I am very excited to see how far he will go! I appreciate the staff of KarateBuilt Grand Rapids so much for everything they do for these kids and my son!